08 June 2022 @ 13:36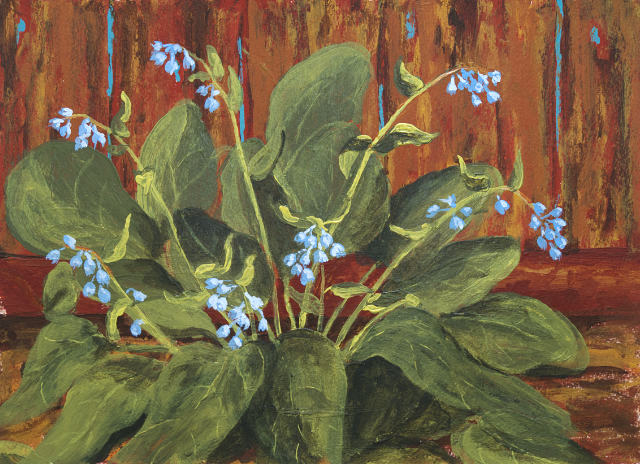 Bluebells
Acrylics on paper
30.5 cm x 40.6 cm (12" x 16") - 2022

May 2022 was a strange month. I will never forget, rain, humidity, strong winds and heat waves. Little did I know what was to come next.

It was a cool 9℃ in Orléans on Wednesday, May 18, so I brought my sketchbook and watercolour palette to the backyard to inspect our small flower bed.

The Bluebells were out and a quick watercolour painting inspired me to do an en plein air session using acrylic paint. These lovely flowers do not last long, and I thought there was no time to waste. I am glad I did because a few days later, they were destroyed by the severe storm.

On Saturday, May 21st, a deadly and destructive derecho swept across southern Ontario and Quebec, bringing down trees, tearing off roofs and leaving behind thousands of people without power. It was scary and surreal.

+ + + +

Campanules
Acrylique sur papier
30.5 cm x 40.6 cm (12" x 16") - 2022

Je ne suis pas prête d'oublier le mois de mai, 2022, qui nous en a fait voir de toutes les couleurs ! Pluie, humidité, forts vents et des vagues de chaleur. J'étais loin de me douter de ce qui se préparait.

Mercredi le 18 mai, la température était de 9℃ à Orléans. Mon carnet de croquis et ma palette d'aquarelle en main, j'ai inspecté notre plate-bande dans la cour arrière.

Les Campanules étaient magnifiques ! Après avoir peint une petite aquarelle dans mon carnet, j'ai eu le goût de faire une session en plein air avec de l'acrylique. La saison de ces jolies fleurs est courte, donc pas de temps à perdre. Heureusement que je les ai peintes car 3 jours plus tard, elles ont été détruites lors de la violente tempête.

Samedi le 21 mai, un derecho a fait d'énormes ravages dans le sud de l'Ontario et au Québec : arbres déracinés, toitures arrachées, des milliers de personnes sans électricité, et plus triste encore, plusieurs pertes de vies humaines. C'était effrayant et surréel.