27 February 2022 @ 13:27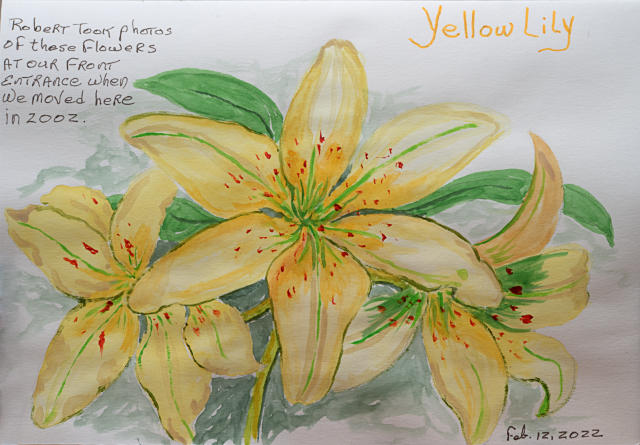 Yellow Lilies / Lis jaunes
Watercolour from my sketchbook / Aquarelle dans mon carnet à croquis
15.24 cm x 20.32 cm (6" x 8") - 2022
Source material: Robert Roaldi


It has been a long and cold winter and I needed to bring in a ray of sunshine into my studio by painting a splash of vibrant colours. Searching through my reference material, I selected yellow and orange lilies that were on our property when we moved in.

I seldom paint flowers but these gorgeous lilies inspired me to at least try. The above watercolour was done in my sketchbook. The results pleasantly surprised me so the bright Orange Lilies shown below were next.

Keep reading as there is more to this blog along with 4 additional small watercolours!

+ + + +

Avec le froid et l'hiver qui traîne, j'ai voulu faire entrer du soleil dans mon atelier en peignant des scènes aux couleurs vives et éclatantes. Dans ma filière de références, j'ai trouvé des lis jaunes et orangés qui se trouvaient sur notre propriété lors de notre déménagement.

Je peins rarement des fleurs mais ces beaux lis m'ont donné envie de les peindre. Dans mon carnet à croquis, j'ai peint les Lis jaunes et le résultat m'a plu. Les Lis orangés ont suivi.

Poursuivez la lecture du blogue et découvrez 4 autres petites aquarelles !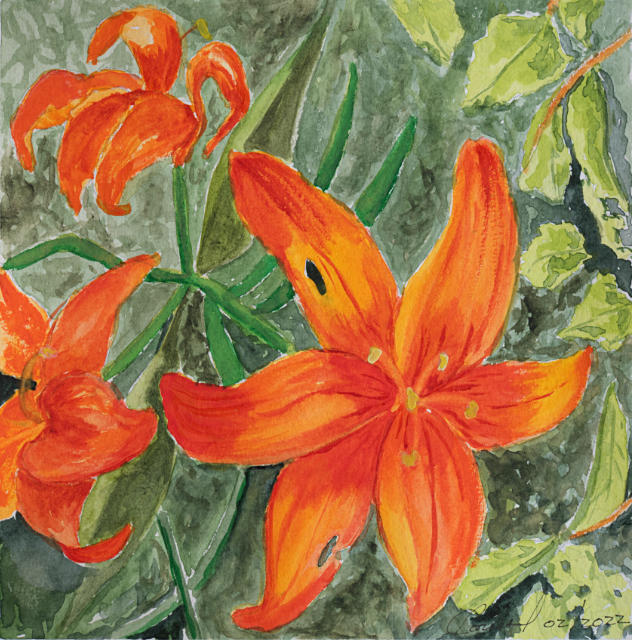 Orange Lilies / Lis orangés
Watercolour on paper / Aquarelle sur papier
20.32 cm x 20.32 cm (8" x 8") - 2022
Source material: Robert Roaldi


Those two watercolours completed, I asked our friend Barb, who is an amazing gardener, if she would send me some photos of her beautiful flowers.

Creating all those small artworks boosted my energy and I learned a great deal about watercolour techniques. This water media exploration is opening my mind to unexpected possibilities. So interesting!

+ + + + +

Les deux aquarelles complétées, j'ai demandé à notre amie Barb, une jardinière passionnée, si elle pouvait m'envoyer quelques photos de ses fleurs.

Créer toutes ces petites toiles m'a redonné de l'énergie et j'ai appris diverses techniques de l'aquarelle. Dans ma recherche sur les peintures à base d'eau, un univers rempli d'étonnantes découvertes s'ouvre à moi. C'est merveilleux !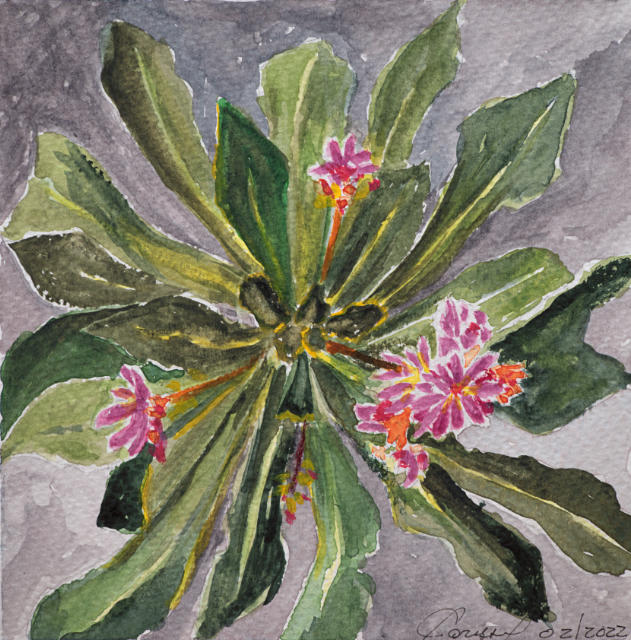 Lewisia
Watercolour on paper / Aquarelle sur papier
17.78 cm x 17.78 cm (7" x 7") - 2022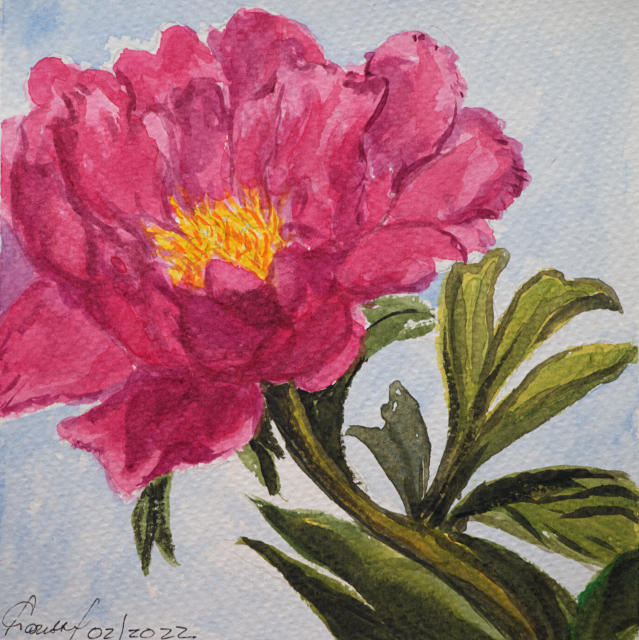 Peony / Pivoine ●
Watercolour on paper / Aquarelle sur papier
17.78 cm x 17.78 cm (7" x 7") - 2022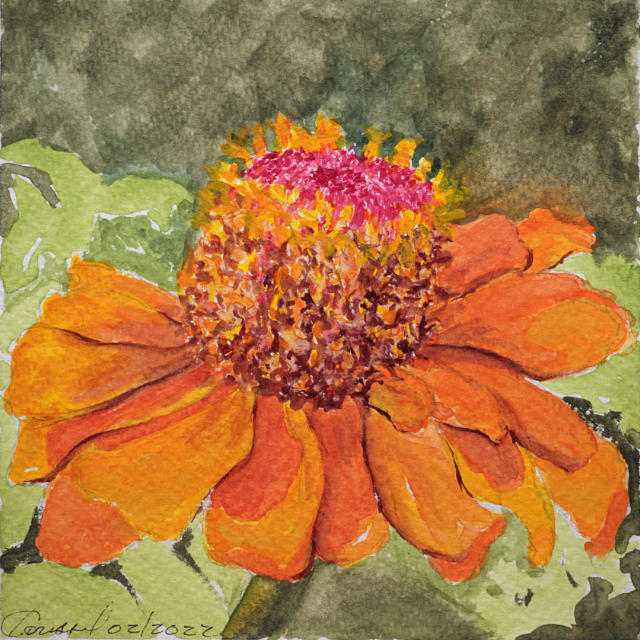 Zinnia ●
Watercolour on paper / Aquarelle sur papier
17.78 cm x 17.78 cm (7" x 7") - 2022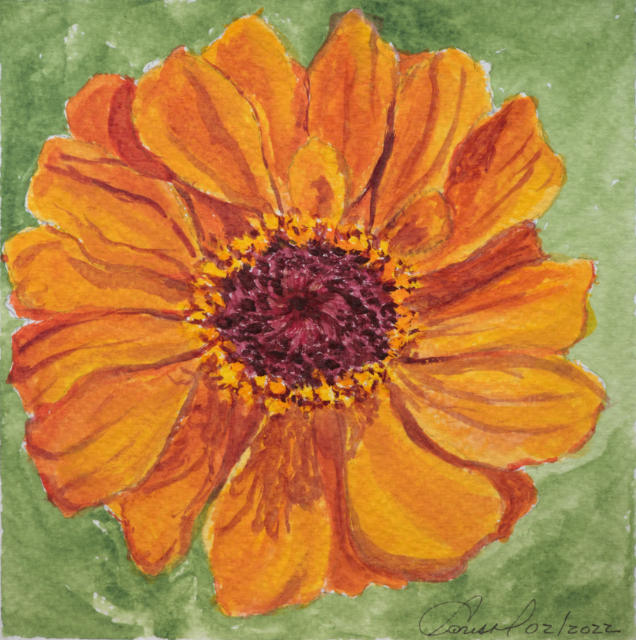 Zinnia (Top view / Vue en plongée)
Watercolour on paper / Aquarelle sur papier
17.78 cm x 17.78 cm (7" x 7") - 2022