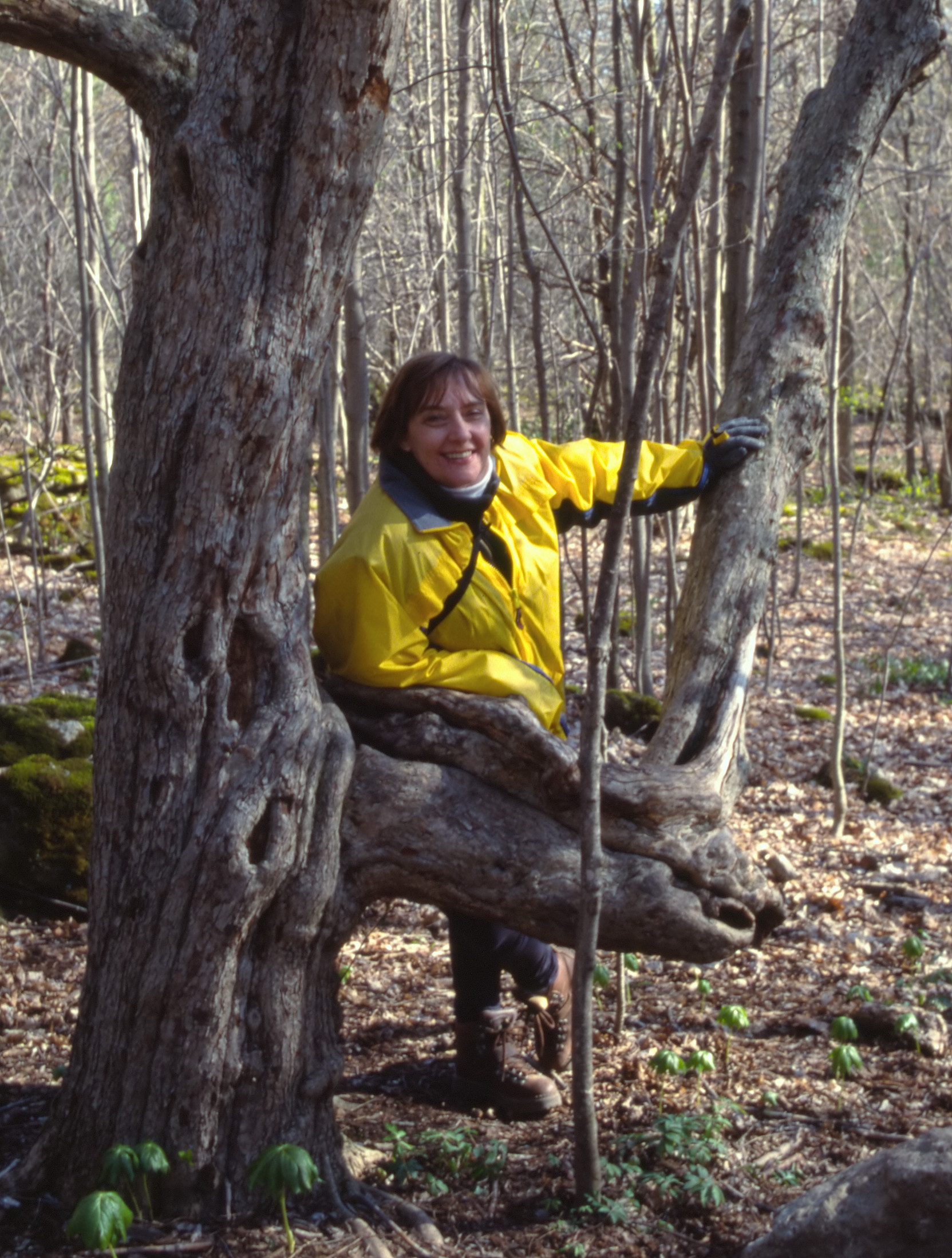 ---
18 April 2021 @ 16:10
Canada Jay

Oil on canvas
40.64 cm x 50.8 cm (16" x 20") - 2021

Our first trip to Newfoundland and Labrador was in 2005. We spent a week discovering Gros Morne National Park and we loved it. One day, we walked the 3 km trail to Western Brooke Pond. We rested at a picnic table where I photographed this Canada Jay that was watching us. I find small birds are as fascinating as the magnificent birds of prey.

When we go on a birding trip, I connect with the birds I see. Back home, I search my bird books and bird web sites to find as much as I can about their life, habits and status. Sadly, many species are at risk due to climate warming and loss of habitat.

Since Covid-19, we have not followed bird migrations nor gone for long hikes. I miss it all so much but until the pandemic is over and it is safe to resume our activities, we will stay home.

The impression birds leave on us can last a lifetime. When I was 7 years old, I found a colourful songbird lying on our front balcony. I gently picked it up and tried to reanimate it with tiny drops of water on its beak. The bird soon perked up and after a few seconds flew away. I remember the happiness I felt in my heart knowing that it was okay.

+ + + + +


Mésangeai du Canada

Huile sur toile
40.64 cm x 50.8 cm (16" x 20") - 2021

En 2005, nous avons passé une semaine formidable au Parc national du Gros-Morne lors de notre premier voyage à Terre-Neuve-Et-Labrador. Un jour, nous avons parcouru le sentier de 3 km pour nous rendre à l'étang de Western Brook. Arrivés à destination, nous avons profité d'une table à pique-nique pour nous reposer et prendre une petite collation. Ce Mésangeai du Canada nous surveillait alors j'ai pris des photos. Je trouve que les petits oiseaux sont autant fascinants que les magnifiques oiseaux de proie.

Lors d'une randonnée pour observer les oiseaux, un lien se tisse avec ceux que je découvre. De retour à la maison, je fouille dans mes guides d'oiseaux et sur les sites web pour apprendre sur leur vie, habitudes et statut. Malheureusement, plusieurs espèces sont à risque en raison du réchauffement climatique et de la perte de leur habitat naturel.

Depuis la Covid-19, nous n'avons pas suivi les migrations des oiseaux, ni fait de longues randonnées dans la nature. Nos activités me manquent énormément mais tant que la pandémie durera, nous resterons à la maison.

Le souvenir d'un oiseau en particulier peut durer toute une vie. Lorsque j'avais 7 ans, j'ai trouvé sur le perron de notre maison, un petit oiseau chanteur au plumage coloré. Délicatement, je l'ai pris dans mes mains et j'ai tenté de le réanimer en déposant de petites gouttelettes d'eau sur son bec. L'oiseau a repris conscience et quelques secondes plus tard, il s'est envolé. Je me souviens encore combien mon coeur était rempli de joie à l'idée qu'il était sauf.
10 April 2021 @ 11:11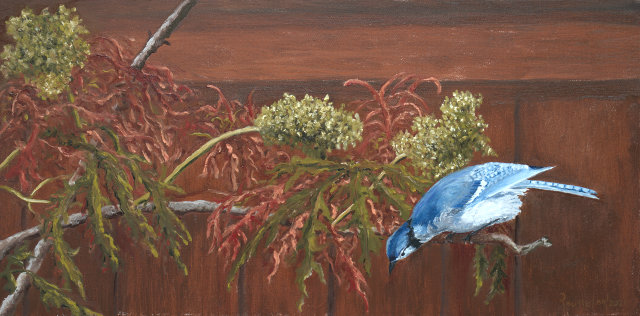 Blue Jay
Oil on gallery canvas
30.48 cm x 60.96 cm (12" x 24") - 2021

When visiting our backyard, Blue Jays announce their arrival with a loud and distinct call that I can't ignore. I love this inquisitive and energetic bird. In fact, I love all birds!

Covid-19 has brought death, stress, fear, anxiety and sorrow into our lives. It has not been easy. I find some peace of mind by watching bird activity in our backyard. It is a powerful dose of positive energy. Their beautiful songs allow me to focus on the moment and believe that everything is all right. Birds make the world a better place, and for that I am grateful.


+ + + + +


Geai Bleu
Huile sur toile galerie
30.48 cm x 60.96 cm (12" x 24") - 2021

Un cri strident et distinctif annonce l'arrivée des Geais Bleus dans notre arrière-cour. Impossible de les ignorer. J'aime beaucoup cet oiseau qui est à la fois curieux et plein d'énergie. En fait, j'aime tous les oiseaux !

Covid-19 a chambardé nos vies : mortalité, stress, peur, anxiété, peine. C'est difficile. Je retrouve ma tranquillité d'esprit en observant les oiseaux dans notre arrière-cour. Cela me procure une bonne dose d'énergie et me remonte le moral. Leur chant me permet de me concentrer sur le moment présent et j'arrive à croire que tout va bien. Le monde est beaucoup plus beau grâce aux oiseaux et je l'apprécie.