Sunny Spell (Study)
Éclaircie (Étude)
17 February 2021 @ 13:34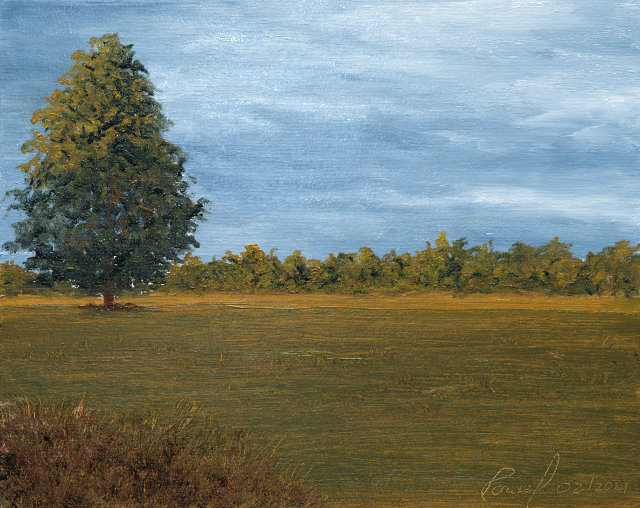 Sunny Spell
(Study)
●

Cumberland area, Ontario
Oil on birch panel
20.32 cm x 25.4 cm (8" x 10") - 2021

What attracted me to this painting with its dark and moody sky is how an outburst of sunlight lit the row of trees, highlighting that gold line in the field and the top of the solitary tree. A little bit of sunshine changes everything.

Last week, I set aside an in-progress large painting to dry. I did not want to start another large piece so I turned to some custom made birch boards.

These boards were destined for plein-air painting last year, but because of Covid-19 restrictions, that did not happen nor does it look promising for this year either.

So, time for some alla prima studies in my studio! My approach: establish quick compositions, be more spontaneous, loosen up and experiment with colour and light.

Listening to the music of Rod Stewart, Billy Joel and The Canadian Tenors, I painted, imagining that I was standing in the fields where there was no bugs, wind or extreme temperatures!

The result: 4 paintings in 4 days and
Sunny Spell
is one of them.

My next posts are:
Along Bonavista Peninsula
,
Cross Country Ski Trail
and
Dirt Road in Autumn
.

These studies might serve as a template for larger paintings in the future.

+ + + + +


Éclaircie
(Étude)
●

Région de Cumberland, Ontario
Huile sur panneau de bois
20.32 cm x 25.4 cm (8" x 10") - 2021

Ce qui m'attire dans cette scène c'est comment une percée de soleil fait ressortir les arbres au loin malgré ce ciel menaçant. La lumière caresse le sommet de l'arbre solitaire et donne au champs l'apparence d'un mince fil d'or. Comme quoi, avec un peu de soleil, tout se transforme.

La semaine dernière j'ai mis de côté une grande toile sur laquelle je travaille, pour lui donner le temps de sécher. Entreprendre un deuxième grand tableau ne me tentait pas, alors je me suis tournée vers mes panneaux de bois.

Ces panneaux, faits sur mesure, étaient destinés à des sessions de plein air l'an passé mais avec les contraintes de la Covid-19, mon projet n'a pas eu lieu et je crains que ce soit le même scénario cette année.

J'ai donc entrepris de faire des études alla prima dans mon atelier ! Mon approche : établir rapidement mes compositions, être plus spontanée et détendue, et expérimenter avec la couleur et la lumière.

Sur la musique de Rod Stewart, Billy Joel et The Canadian Tenors, j'ai peint en imaginant que j'étais dans les champs sans les insectes, le vent et les températures extrêmes !

Résultat : 4 tableaux en 4 jours.
Éclaircie
est l'un de ces tableaux.


3 autres tableaux sont affich
é
s s
é
par
ément
:
Le long de la péninsule de Bonavista
,
Piste de ski de fond
et
Chemin de terre
en automne
.


Il est possible que ces études serviront de modèle envers des tableaux grand format.